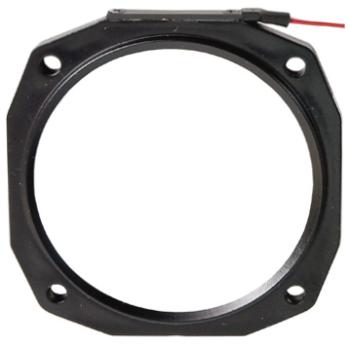 LIGHT WEDGE 2-1/4/14V/PMA
---
Nulite aircraft instrument lighting creates the same lighting appearance as internal lighting kits without the cost and install time. Sandwiched between the instrument and the panel, they reduce glare and hotspots by concentrating 60% of the light on the upper half of the instrument - all focused by a unique bezel that directs light toward the instrument, not the pilot.
Nulites come in a variety of sizes with specialized cutouts for most instruments and work with dimming systems. Install can be accomplished in minutes. PMA Approved.Â
See the link table on this page for the full range of sizes.
---
NULITEs will work with any dimming circuit, be it positive or negative. Each unit draws a maximum of 125 ma. with an average load of around 80 ma. NULITEs are installed in parallel circuit (see Figure 1). Eight NULITEs will draw a maximum of one total amp. In planning for the installation, a good rule of thumb is that for every post light removed, three NULITEs can be installed for the same current draw, without any modification to the aircraft's lighting circuit.
In the event that no dimming circuit is available, we suggest a 3 amp fuse or circuit breaker be used with a potentiometer as seen in Figure 1.
Special attention should be paid to wire routing to ensure that aircraft safety is maintained. These wires can be pulled out if enough force is applied so strain relief is very important. NULITEs come with 18&